Advent and Christmas at covenant
Advent and Christmas Schedule of Events
December 1, 5-7 p.m. – Christmas Crafts, Photos with Santa
Join us in Fellowship Hall from 5-7 p.m. for DIY craft-making & a visit from Santa with opportunities for photos. There will be craft stations around the Hall with 4 half-hour time slots for 50 children each. Masks are required. Pictures with Santa will take place outside.
Please sign up here for crafts and photos.
Reservations for Santa are now full, but we will gladly accommodate walk-ups. No one will be turned away. There are still spots available to register for the Christmas crafts.
December 8 – Christmas Movie & Caroling at 5 p.m.
Join us for hot chocolate and snacks, Christmas carols and the viewing of the movie "The Star." This is an outdoor event so bring your chairs & blankets.
December 12 – Candlelight Carols at 5 p.m.
Bring your blankets, chairs & hot chocolate and join us on the Green to enjoy an outside worship experience featuring children, youth, and adult choirs, youth and
adult handbells, brass and flutes, drums, movement, visual art, spoken word and congregational singing. Carillon prelude begins at 4:15 p.m.
Childcare is available for children under 5 yrs. old.
Come early and shop the Alternative Gift Market.
December 1-12 – Live Alternative Gift Market
Live Alternative Gift Market Returns This Year!

Please consider how your holiday gifting can support our mission partners around the globe! Purchase wonderful gifts such as Palestinian olive oil, jewelry, pottery, sweet treats and more!
Beginning December 1,
purchase beautiful Christmas cards in honor of loved ones
that provide donations to any of our mission partners.
December 15 – A Service of Wholeness & Healing
In the midst of holiday celebrations, many of us find ourselves struggling with the hard realities of life --grief and loss, illness and unfulfilled dreams. Join us for a candlelight service with scripture, prayers, music and reflection intended to bring comfort and re-center our
focus on God's presence in the midst of our challenges. 7 p.m. in the Covenant Chapel.

Sunday, December 26 – One Worship Service (Traditional) at 11 a.m. in the Sanctuary.
Christmas Eve at Covenant – Friday, December 24
Make plans to join us for a very special Christmas Eve at Covenant! We'll host three in-person worship services in the Sanctuary along with festive activities and time for quiet, sacred reflection.
Start the day with our annual Kindergartner's telling of the Christmas story. Stay for animals, crafts, music, decorated trees, cake and hot chocolate. Journey inside the Sanctuary for sacred reflection and an opportunity to light a candle. And join us for our contemporary and traditional worship services.
No reservations are required, all are welcome, invite your friends. We look forward to seeing you on campus!
10:00 – 10:30 a.m. Children's Nativity Play in the Sanctuary
ALL children will be invited to help tell the story of Jesus' birth!
10:40 a.m. – Noon Christmas Eve Festival on the Green
Noon – 2:00 p.m. Sanctuary open for contemplative walk-through
3:00 – 4:00 p.m. Appalachian Christmas Service in the Sanctuary
5:00 – 6:00 p.m. Traditional Candlelight Service in the Sanctuary
Music Ministry Advent & Christmas Highlights
Dec. 5: Jubilate, Angelus & Chorister choirs will sing in the 9:30 a.m. worship service
Dec. 12: Youth Singers will sing, and Youth Strings Ensemble will play in the 11 a.m. Sanctuary Service
Dec. 12: Candlelight Carols on the Green at 5 p.m.
Dec. 26 at 10 a.m.: Youth, college & adult singers are invited to join Covenant Choir for the day to prepare a gospel carol for worship at 11
ways to serve during advent
Room in the Inn returns to Covenant and your help is needed!

We're Looking for overnight hosts for December 14 and 21 and both evening and morning van drivers.
Strict COVID protocols will be in place with our homeless guests being 100% vaccinated and masked.
Click here for more details and to sign- up
.
Collecting Calendars, Greeting Cards
You are invited to contribute 2022 calendars/planners
and new greeting/Christmas cards for neighbors in need.
A collection bin will be in the Welcome Center through January.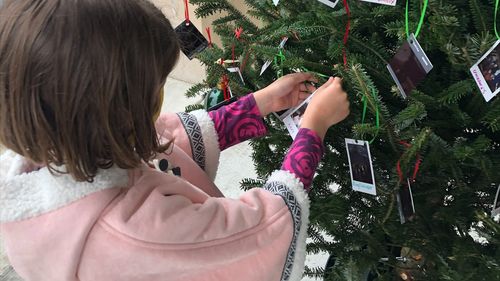 Covenant continues to support Highland Renaissance Academy,
a Title 1 CMS school, through The Giving Tree. Each K and pre-K student at Highland will receive an educational, age-appropriate gift.
· Please purchase a TOY and a BOOK suggested on the tag.
· Wrap both items together (no gift bags, please).
· Attach entire tag to gift.
· Return gifts w/tag to the tree in the Welcome Center.
by Sunday, December 5.
This is a QUICK turnaround due to the school schedule.
Highland Teacher Appreciation
During the school year, Covenant embraces those who nurture students at Highland day-after-day.
Beginning in September, we will provide both our traditional monthly brunches and periodic snack carts, delivering goodies and refreshing drinks to teachers as a reminder that what they do matters – a lot – throughout the day.
Click here to sign up
.
Subscribe to Advent Devotionals
In the Midst Of Chaos, Comes…. Hope, Peace, Joy, Love
So often in our lives we think that once things get organized, taken care of, settled, you name it then goodness will start to pour into our lives. A narrative has been created around us that God comes in the midst of peace, God comes in stillness, God comes in quiet. And while God certainly comes in the moments of quiet, peace, and stillness, that is not the whole story.

When Christ was born into the world some 2,000 years ago, he came into the midst of chaos. He was born into the violence of the Roman Empire, born into a world that had not figured it all out. His birth itself was in the midst of chaos, born in a stable while Mary and Joseph were travelling. There was nothing orderly, organized, or perfect about Jesus' beautiful entrance into the world. And still, even in the chaos, Jesus brought hope, peace, joy, and love.

This is good news for us and for the chaotic world we live in. We do not need to figure it all out, we do not need to quiet the raging storms around us, we do not need to make things perfect in order for Jesus to break through into our world and our lives. Jesus breaks into the midst of our chaos and brings hope and peace and joy and love.

This Advent we will explore this theme in our Advent devotional written by members of our Covenant church community. I trust and pray this will be an opportunity for you to hear stories of God breaking into the chaos, that this will help you to look for the ways God is breaking into the chaos of your life, and to see hope, peace, joy, and love not only in the quiet but also in the chaos.