Call 704-210-8873 to listen to this week's sermon by phone. Updated at 1 p.m. on Sundays.
There will be no pre-registration or limitation on the number of attendees, but, for safety purposes, we will encourage seating in designated pews. Masks are required indoors.
Covenant's campus is located at 1000 East Morehead Street, at the intersection of McDowell Street and Dilworth Road.
Visitor parking is available in the center of the main parking lot off of Arosa Avenue.

Worship
Chapel: 8:45 a.m. Traditional
Sanctuary: 9:30 a.m. Contemporary, 11 a.m. Traditional
Fellowship Hall: 11:00 a.m. Contemporary

Adult groups and classes meet in Fellowship Hall.

Childcare and children's classes are offered in the Education Wing.
Traditional Worship – 8:45 a.m. in the Morrison Chapel
Arrive early for an intimate, meditative worship experience complemented with organ and soloists.
Contemporary Worship – 9:30 a.m. in the Sanctuary – Streamed Live
The 9:30 contemporary service begins musically with the Worship Team, including strings, percussion, keyboard and vocalists.
Come as you are – from shorts and t-shirts to suits and ties. Casual dress is welcome.
Traditional Worship – 11:00 a.m. in the Sanctuary – Streamed Live
Our 11:00 traditional service takes place in our great hall Sanctuary with the full Covenant Choir, accompanied on special weekends by orchestral musicians.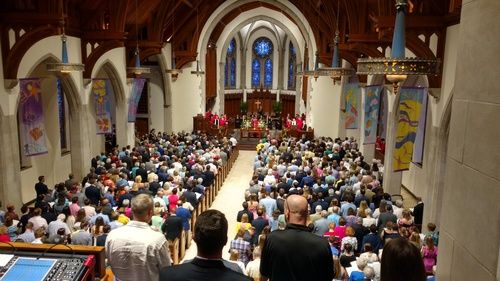 Contemporary Worship – 11:00 a.m. in the Fellowship Hall
Our 11:00 contemporary service takes place in the Fellowship Hall and offers a relaxed environment; rich with music, sermon and discussion.
Children, youth, childcare
Children are always welcome in all services. Each service offers a short "Time With Young Disciples" segment where children are invited forward for a special message with a minister.
Children and youth Sunday school is offered each Sunday.
As we return to in-person worship in the Sanctuary we also are returning to in-person Sunday School. Sunday School and childcare will be offered at both the 9:30 a.m. and 11:00 a.m. services. Classes will take place outside as heat and rain permit.

Sunday School teachers are needed for the summer.
Please sign up here
.
Please allow your children to dress comfortably in play clothes and shoes! Children 3 years old and up will wear masks and all teachers will remain masked.
Volunteer shepherds are needed each week!
Contact Dailyn Sailor
if you would like to help one Sunday.
Where to go
Enter through the Welcome Center to access the Education wing.
Childcare is available for infants through 3-years-old on the first floor of the Education Wing in rooms 101 and 102
Children ages 3-5 will meet in the 1st floor of the Education wing for Sunday School
Children Kindergarten through 5th grade will go to worship in the Sanctuary through the children's sermon, then follow the shepherd to Sunday School. They can be picked up after the service on the 2nd floor of the Education wing in room 207, the Power Up room.
Youth join Middle School Youth and High School Youth directors and volunteers to sit together during worship and have fellowship on the circle afterwards. Martin (HSY Director) and Alyssa (MSY Director) will greet youth outside the Sanctuary.
We kindly ask that parents (not siblings) drop off and pick up children from child care and Sunday School
Sunday morning Small groups
Membership and Engagement Director
We know that the act of finding a new church can be intimidating.
Our engagement team is happy to help! Feel free to contact us to plan your visit ahead of time. At Covenant, guests are are not called to the public center of attention in any way though if you would like to connect when you are here, our ministers and church leaders are always present at the doors, happy to greet and answer questions.
We Welcome All into the Life of Our Church Family
If you are considering making Covenant your church home, we have worked hard to eliminate any barriers to joining; we do not require joining sessions, classes or formal introductions. Simply come to the Parlor (located downstairs, underneath the Chapel building) any Sunday at 10:30 a.m. Our
ministers
and members of the Engagement Committee will be there to greet you. A photographer will take a portrait as a way to welcome and introduce you to the congregation. This casual gathering lasts about 15 minutes – we think of it more as a "welcome to the family" than a formal joining meeting. We also welcome new members via Zoom one Sunday a month.
Contact Lora Borrelli for the meeting link.
We look forward to meeting you this Sunday or one Sunday soon. In the meantime, please let us know how we can help make connections for you here at Covenant. You are also invited to any of our ministry events during the week for adults, youth or children. Learn more about those under our Connect and Grow tab at the top of the page.
Starting Point BBQ Dinner October 3, 2021 – Learn About Covenant and Our Mission – No Strings Attached!
Interested in becoming a member at Covenant? Want to know more about the life of the church?
Join us for a catered dinner and Q&A session with
Senior Minister, Bob Henderson
on October 3, 2021 from 5:30-7:00 p.m. on the Fellowship Hall patio.
Flowers for the Sanctuary
Members of the congregation are invited to place flowers in the Sanctuary as part of our worship setting on Sundays. These can be in honor or dedication of a person or event or to simply add goodness and beauty to our worship space.
To place flowers in the Sanctuary on a Sunday, please complete this form and we will be in touch with you. Questions? Contact
Michelle Williamson
(704-804-7560).
Want to learn more about Covenant?
We'd love to hear from you and help you find a connection here.
Fill out the form below to let us know more about your interests.