learning, serving and fellowship
Whether you are new to Charlotte or have been here for your whole life, you'll find a community built on faith, compassion, generosity and love.
We are grateful for your interest in Young Adults at Covenant!
Our goal is to continually build a community of friends who serve together, learn together, and share life's ups and downs together. We would love for you to be a part of it.
Whether you are new to Charlotte or have been here for your whole life, you'll find a community built on faith, compassion, generosity, and love here at Covenant. We strive to be a place where each and every person feels supported, while also being a ministry which serves the wider community and world. We invite you to follow us on
Facebook
and
Instagram
to find out more about what we have in store.
Announcements and Updates
Join Young Adults Small Group(s)
Joining a small group is a great way to build new friendships and dive deeper into your faith. Check out the offerings for this fall!
Young Adults Upcoming Events
Advent at Covenant: Sign up here to receive daily Advent devotionals written by Covenant staff and members.
YA Pricing Party: Help us price gifts for the Alternative Gift Market on Sunday, December 5th and then join us for our First Sunday Lunch. Sign up here.

First Sunday Lunch, Sunday December 5th, 12:30 p.m., Yafo on East Bouelevard. Stick around after the 11 worship service and join your young adult friends for lunch and fellowship.
Yount Adults Christmas Party, Sunday December 19th, 4:00 p.m. - 7:00 p.m., NoDa Brewery. Sign up here!
Upcoming Service Opportunities
A/V Team Volunteers
Are you looking for a way to serve the church? The Audio/Video team needs your help! This is a great way to get connected to the church, give of your time, and meet new people. No experience necessary! Contact Jason Graffis for more information.
Ushers Needed!
The usher team needs more smiling faces to serve as greeters at the 11:00 service! Interested? Contact Ashley Roehrig for more details.
Volunteer as a Math Tutor to Benefit Highland Renaissance Academy!
Want to support a child at Highland Renaissance Academy with only 1 hour per week? Heart Math Tutoring recruits and supports volunteers as tutors to ensure all elementary students develop the strong foundation in math and enthusiasm for academics needed for long-term success. You can sign-up to volunteer as a tutor and select your day and time for Highland Renaissance (8:45-9:45am or 1:00-2:00pm). Please email Kelsey Ripley with questions.
Pastoral Resident for Education and Young Adult Ministry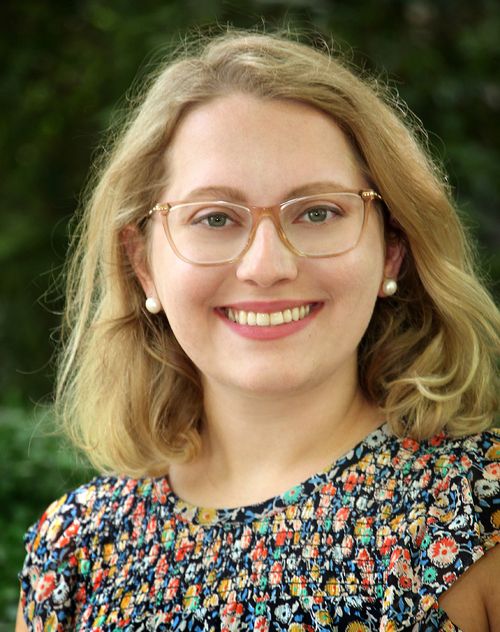 Molly was born and raised in Wilmington, North Carolina, but calls Raleigh home. She graduated from Meredith College in Raleigh, North Carolina with a B.A. in Religious and Ethical Studies and Spanish. She earned her M.Div from Union Presbyterian Seminary in Richmond, Virginia. She has served at several Presbyterian churches in North Carolina and Virginia and completed her clinical pastoral education (CPE) at UNC Rex Hospital in Raleigh. Molly is passionate about journeying with people of all ages and stages through the joys and complexities of life. When not at church, Molly can be found walking around her neighborhood with her sweet but rambunctious German Shepherd puppy, Ginny.
At Covenant Young Adults, we believe that we are called to learn with and from each other. That's why we have multiple opportunities for community learning throughout the year. We hope you'll take advantage of these events: they are a wonderful way to grow in faith while getting to know some great people.
Third Sunday of every month at 9:30 a.m. outside on the Rec Wing patio
We learn best when we learn from and with each other. This is a judgment-free zone and welcomes any young adult. So bring your thoughts, your questions, and your doubts. Coffeehouse isn't a Sunday School class. Nor is it a small group. Instead, it's a place for conversation. In an informal setting, we will explore our views on God.
Last Tuesday Evening of the Month
Open to any young adult who wants to study Scripture, this group meets on the last Tuesday evening of each month from 7:30-8:30 p.m. via Zoom. Gatherings blend thoughtful-yet-accessible Bible study with opportunities to grow friendships. Come join us as we learn about what the book of 1 Corinthians can teach us about our everyday lives!
Covenant is a large congregation, but we understand the importance of small, close-knit, communities. That's why we encourage our members and participants to be involved in a small group. These groups are great places to build friendships, learn, and pray. Below are our group options


The Path: An Accessible Group For Women
Newly revamped for 2021, The Path is a group for any young adult woman – but with a special focus on those who are new to Covenant or to the Christian faith. The group encourages faith-centered learning and fun fellowship: it's a great place to get to know new friends! The Path will meet the 1st and 3rd Monday of every month from 7:00-8:00pm on Zoom. Questions? Contact
Grace Williams
.
Young Adult Men's Group
Join fellow young adult men for a chance to foster faith-centered friendships through conversation and prayer. Contact
Steven Howell
for more details.
Faith & Fellowship
Offering a place for joyful friendships and meaningful conversation, Faith and Fellowship is supportive group for young adult women. They are a diverse community of people of all ages and stages.
Women's Sunday Evening Group
This newly formed group offers women a chance to explore their faith and make friendships in a fun and relaxed setting. This group will meet the second and fourth Sunday evening of each month from 5-6 pm at Catawba Brewing. Interested in signing up or learning more? Contact
Molly Smerko
.
Young Adult Mothers Group
Come enjoy fellowship with young adult mothers, expectant mothers, and those who pray to be mothers soon! Contact
Christie Collins
for more information.
On the second Saturday morning of each month, we offer young adults the opportunity to work side by side to serve their neighbors across Charlotte. Collaborating with ministry partners across Charlotte and the wider region, Covenant Young Adults offers you the opportunity to make a real impact. Contact us to learn more about upcoming opportunities.
Seasonal Service Projects
Throughout the year, we gather to support significant group projects such as Covenant Impacts Charlotte (our church-wide day of service), Habitat for Humanity builds, or environmental cleanups. We'd love to have you participate in our next one!
Global and Regional Mission Work
We encourage young adults to participate in Covenant-sponsored
mission trips around the world
. These offerings occur throughout the year and are a great way to serve, learn, and build connections across our church community.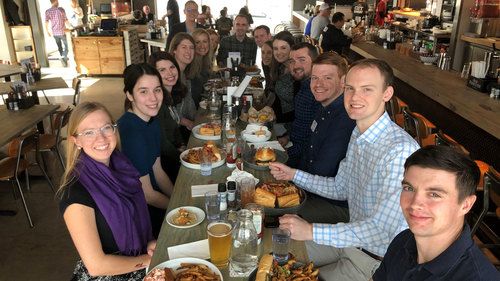 At Covenant Young Adults we strive to cultivate meaningful, lasting, and faith-centered friendships. As such, we create regular opportunities for you to meet new people and strengthen existing relationships. We hope you will consider joining us! Our fellowship events are always open to all young adults and they are a great way to plug in if you are new to Charlotte or Covenant.

First Sunday Community Meal
On the first Sunday of each month we gather at a local restaurant at 12:30 to share a meal and conversation together. It is a great way to catch-up, meet new friends, and explore the city! Contact us to learn more about the next one!

Seasonal and Special Events
Throughout the year we host some great special and seasonal events, such as our Spring Social, Fall Kick Off, Friendsgiving, and Christmas Party. We'd love to welcome you to our next one!

Quarterly Happy Hours
Every three months we offer an informal happy hour at one of Charlotte's amazing breweries! These casual Sunday evening gatherings are a fun way to connect and get ready for the week ahead!
Interested in connecting with us?
People seek out a church for many different reasons. To learn more and get connected, drop Ian a line below and he will reach out.