discovering a love of service and a passion for prayer
Called to cultivate community, serve and love our neighbors, and worship with open hearts.
At Covenant, we recognize the immense potential of each and every young mind – the potential to shape, not only our congregation, but the entire community. We find joy in being teachers, mentors, and cheerleaders to our youth. We celebrate together in the good moments, and offer comfort in the bad. We believe in fostering individuality, curiosity, and compassion for our neighbors. Above all, we recognize that there is as much to learn from our youth as there is to teach, and appreciate the opportunity to witness the one-of-a-kind growth of each child.

As our youth tackle the big questions of life and faith, we invite you to join our community with open minds and open hearts. Whether it's helping them discover their love of service or their passion for prayer, we are excited to offer our support – and looking forward to all you can contribute to our youth family!
High School Youth Updates
This Week in High School Youth
Sunday School This Week
Join us this Sunday at 9:30 for doughnuts followed by the first installment of our four part series learning about and celebrating Advent!
Sunday Night Fellowship: Friendsgiving!
Join us at 6:00 on the Fellowship Hall patio for HSY Friendsgiving. Grab your friends, make a dish to share and
sign up here
!!
Covenant Sweatshirts Make a Great Christmas Gift
Just in time for Christmas, we are ordering Covenant Sweatshirts! These will be available to order at the Alternative Gift Market but we wanted youth to get in on the ground floor! Orders will only be open for a few weeks and will close on December 13th so act fast! $30 each with pickup available on Christmas Eve!
Purchase your sweatshirt here
!
Advent and HSY:
On Wednesday, December 1st Christmas is coming to Covenant! Santa Claus will be in town and children and families will be working on Christmas Crafts! High School Youth have always enjoyed helping with this fun event and we need you again this year! This is a great opportunity for service hours!
Contact Martin
or
Katherine Kerr
to let us know that you can help!
Room In The Inn
is back this year! We are very excited that Covenant High School Youth have the opportunity to host our guests on the last Tuesday before Christmas! We will have the opportunity to cook and serve dinner as well as spend time with our guests and fix breakfast and lunch to be taken the next day!
Sign up here!

Sign up here for HSY upcoming trips!
It may seem like winter and next summer are forever away but we are already making plans for our trips! You can help us out and save your spot by signing up today! No deposits are necessary at this time. We will continue to provide more information as the trips draw near.
Click on the links below for more information and to sign up!
Connect with High School Youth
Contact Information Updates
As the school year starts, keep in mind that we will need updated addresses, phone numbers, and emails for all youth family members to maintain proper communication. If you suspect a method of communication is not updated, please let us know.
Please ensure you have joined our Remind class for last minute updates and reminders by texting the message "@covhs2021" to the number 81010, or email
Martin
with your phone number.
Finding Time for High School Youth Connection
The Fall semester is always packed with tons of stuff and we would love to support you at it! Martin has already been to several soccer and football games but wants to join you at so much more! We only know about your events if you send us your schedule so please share your calendars for soccer, football, lacrosse, debate, cheer, band, or anything else and Covenant Youth will do our best to be there to cheer you on! Not doing any organized programs? Can Martin meet you for a super early breakfast? Grab Bubble Tea or Ice Cream after school? He'd love to connect and to have a chance to get to know you better.
Email Martin
anytime by phone, text, email or Instagram so that we can coordinate an opportunity.
Volunteers Needed

Covenant High School Youth are in need of additional adults to help out with their presence at all of our programming this Fall! Are you available to hang out with us on Wednesday Night for mid-week Fellowship, Sunday morning for Sunday School or Sunday night for Youth Fellowship? We need you! Without adults present to help out and comply with our Child and Youth Protection Policy, we are unable to have programs.
Please consider signing up today!
Middle School Youth Updates
On Sunday, December 12th, the MSY will have their annual Holiday Party. Details to follow but in the meantime, sign up here to participate in our Secret Santa exchange! You will be randomly and secretly paired. Sign ups close on December 1st!
Sign up here!
Sunday, November 28th: MSY Sunday School, Quest Sunday School, Evening Fellowship
Sunday, December 5th: First Sunday Hot Chocolate
Sunday, December 12th: Holiday Party
January 28th - 30th: MSY Winter Retreat

*There will be no Wednesday night programming for the month of December. We will resume on Wednesday, January 12th.


Parents we need you! Please use the below link to sign up for any of the remaining MSY events for 2021!
Sign Up Here
!
Connect with Middle School Youth
Middle School Youth Games and Performances
If you have an upcoming game or performance,
please click here
to let us know so Alyssa can put it on her celebration calendar!
Contact Information Updates
As the school year starts, keep in mind that we will need updated addresses, phone numbers, and emails for all youth family members to maintain proper communication. If you suspect a method of communication is not updated, please let us know.
Please ensure you have joined our Remind class for last minute updates and reminders by texting the message "@msy20" to the number 81010, or email
Alyssa
with your phone number.
Youth ministry Weekly overview
Sunday School takes place masked from 9:30 to 10:30 a.m. in the middle and high school youth rooms.
On the first Sunday of each month, Youth attend worship with Youth leaders at the 9:30 or 11:00 a.m. Contemporary service.
Sunday and Wednesday Evening Youth Fellowship
Youth Fellowship takes place on Sunday nights, as well as Wednesday nights during Covenant's
Open Table
program. On Sundays, dinner will be provided from 6-6:30 p.m. with programming from 6:30 to 7:30 p.m.
Middle School (Grades 6-7)
Sign up for our Group Remind Texts! Send a text to 81010 with the message @msy20
or email Alyssa and ask to join.
The Church serves as a safe landing place for middle-schoolers when so much is changing.
BASE is our Youth program for 6th and 7th graders, which uses Sunday School to teach our youth about Christian principles, theology, and how to build one's own faith, and fellowship to teach our youth about forming a support system in the church.
Middle School Annual Milestone Programs
Youth engage in milestones as markers of their time in ministry at Covenant and to help them grow in discipleship and community. Each year, youth are invited to an exciting way to mark their time in Youth ministry at Covenant.
Sixth Grade Transition
The middle school youth program intentionally meets with rising 6th graders and parents in the summer, just before the start of school, to discuss joining not just middle school youth at Covenant, but to discuss the transition from elementary to middle school.

Seventh Grade: "Middle of Middle"
Seventh graders will celebrate being "in the middle" of middle school with a special Sunday milestone event. They will create testimonies to be used in worship and create a stepping stone to be collected at the church in honor of each 7th grade class.
QUEST is Covenant's 8th grade Confirmation class, which will occasionally separate from BASE during Sunday School or for other fellowship opportunities. Our QUEST curriculum encourages 8th graders to dive into the church and its teachings more deeply while exploring the values which speak to their individual faith the most.


Eighth grade students can participate in QUEST in order to achieve Confirmation. Students will attend a QUEST retreat, visit places of other faiths, write a statement of faith, and have a mentor guiding them throughout the year. If your eighth grader is interested in joining QUEST,
email Alyssa Pacheco
.
High school Youth Overview
Sign up for our High School Youth Group Remind Texts! Text "@covhs2021" to 81010 to sign up!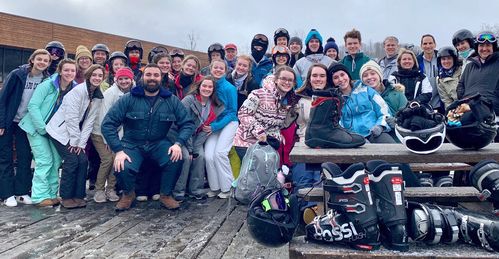 High School youth ministry focuses on four cornerstones: Fellowship, Worship, Study and Service.
During the school year, we offer retreats for fellowship and study: to the mountains in the Fall, skiing in the winter and the beach in the spring. Throughout the year, we explore topics from all walks of life, worship, study, assist with service projects, create art projects, and have a great time together. All youth , grades 9-12, are welcomed and encouraged to come and join along in programming on Sunday mornings and evenings, as well as Wednesday evenings. Regardless of who you are, where you are from, prior affiliation with the church or participation anywhere else,
y
ou have a place in Covenant High School Youth!
During the school year you can find us around campus on Sunday's in The Landing for Sunday School at 9:30 a.m. and Youth Fellowship from 6-7 p.m. following dinner at 5:30. Wednesday evenings we gather for dinner at
Open Table @ Covenant
followed by games, service projects and studies focusing on Biblical topics, Theology & World Religions.
High School Youth Annual Milestone Programs
Youth engage in milestones as markers of their time in ministry at Covenant and to help them grow in discipleship and community. Each year, youth are invited to an exciting way to mark their time in Youth ministry at Covenant.
Ninth Grade Welcome Dinner
Intentionally inclusive time for upperclassmen to welcome ninth graders into High School Youth (HSY) group. A transition dinner from Middle School Youth to HSY, ninth graders will also work with the HSY director and artist to create portraits with their hopes for the coming life of HSY. These will hang in their HSY room and then be used in worship during their Senior Year. In senior and freshman pairs, upperclassmen make dinner for ninth graders, time capsule to be opened senior Sunday. All done during dinner.

Tenth Grade Faith and Sexuality Seminar
more focused on healthy relationships as follow up to 5th grade faith and sexuality. A Saturday morning time for tenth graders to have open and honest communication about healthy relationships and sexuality in the Christian faith.

Eleventh Grade: Listening to Your Life Faith and Career Fair (Fall)
College Admissions Workshop (Spring) – focusing on the application process.
Consider including senior youth and parents with insight on lessons learned. Tools for discernment, PCUSA scholarship opportunities, etc.

Senior Sermons
During Youth Sunday, seniors are invited to offer the sermon. This provides them with the opportunity to celebrate their time at Covenant and to bid farewell to the church as students graduate from high school.

Senior Sunday
Graduating seniors are recognized during worship services at Covenant.

Yucatan, Mexico Mission Trip
This mission trip allows high school graduates to invest in the faith community, while providing service to those in the Yucatan. To make this milestone more successful, there is an intentional connection for graduates to share their Yucatan story with their Covenant family.
Retreat and Mission Trips
See below for mission trip opportunities to be rescheduled in the near future.
High School Summer Mission Trip – June 12 - June 18, 2022
Plans are underway for the HSY Mission Trip this summer. The dates are June 12-18, 2022. Details will be shared as they become available.
Click here to reserve your spot
.
High School Youth Conference in Montreat – July 10-16, 2022
Come spend a week in the mountains of North Carolina with a 1000 other high school youth while you worship, relax and play together. The Montreat Youth Conference is a week long event from July 10th to July 16th that includes keynote speakers, small groups, recreation and worship every day. While we are there we stay in rental houses and eat all meals together with our Covenant group but you will have plenty of opportunities to interact with other youth from around the country! Cost is $450.00 per youth.
Click here to reserve your spot.
Director of Middle School Ministries
Alyssa graduated from Queens University of Charlotte in December of 2019 (and finally got to safely walk across the stage in May of 2021!) While in college, she developed a deep love for religious and youth education, service, and community advocacy, volunteering at The Grove's Firefly afterschool program, interning with Myers Park Presbyterian's CROSS Mission, and serving as Queens' Civic Engagement Fellow and Vice President of the Interfaith Leadership Council.

Alyssa continues to mentor students at The Grove and now serves on the board of the Hispanic American Democrats of Mecklenburg County, where she loves getting to take an active role in fighting for and learning about this city that she loves! In her spare time, Alyssa enjoys reading and writing fantasy and pretending she doesn't have a tik tok until her youth bring it up.
Director of High School Youth
Martin graduated from Presbyterian College in 2013 with majors in religion and Christian education and minors in youth work and leadership. He also has a Master of Divinity and a Master of Arts and Christian Education from Union Presbyterian Seminary.

From 2013 to 2018, Martin served as Director of Youth and Christian Education at Sharon Presbyterian, where he reinvigorated and increased participation in youth programs. Martin helped lead Bulldog Prayers – the multi-faith devotional group at A.G. Middle School. Since 2018, Martin has served at Covenant as the Director of High School and College Ministries. In his spare time, Martin enjoys playing rugby with the Charlotte Royals and doing home renovations with his wife, Anna.
Interested in connecting with us?
We'd love to hear from you. Drop us a line and we'll get back with you.