Scenes from the new season
discovering a love of service and a passion for prayer
Called to cultivate community, serve and love our neighbors, and worship with open hearts.
Get Connected with Middle School Youth
Join MSY Director Alyssa Pacheco and adult leaders for virtual Sunday School every Sunday at 9:30 a.m.
Virtual fellowship is every Wednesday at 6 p.m.
Get Connected with High School Youth
Join HSY Director Martin Pruitt and adult leaders for virtual Sunday School every Sunday at 9:30 a.m.
Virtual fellowship is every Wednesday at 6 p.m.
When our community thrives, so do we
At Covenant, we recognize the immense potential of each and every young mind – the potential to shape, not only our congregation, but the entire community.

We find joy in being teachers, mentors, and cheerleaders to our youth. We celebrate together in the good moments, and offer comfort in the bad. We believe in fostering individuality, curiosity, and compassion for our neighbors. Above all, we recognize that there is as much to learn from our youth as there is to teach, and appreciate the opportunity to witness the one-of-a-kind growth of each child.

As our youth tackle the big questions of life and faith, we invite you to join our community with open minds and open hearts. Whether it's helping them discover their love of service or their passion for prayer, we are excited to offer our support – and looking forward to all you can contribute to our youth family!
Youth ministry Weekly overview
Sunday School from 9:30 to 10:30 a.m.
6th and 7th graders: Ed Wing 307. 8th grade Quest, Ed Wing 318
High School: The Landing (Fellowship Hall Basement)
Youth Singers: rehearse from 10:30 to 10:50 a.m. in EW 315.
Sunday Evening Youth Fellowship
Begins with Dinner at 5:30 p.m.
Dinner in the Fellowship Hall is followed by activities from 6-7 p.m in the Landing (Fellowship Hall Basement)
Wednesday Evenings – Open Table @ Covenant
Dinner from 5:30 to 6:30 p.m.
Middle School: We'll check in with one another, hear the message for the night and break into small groups.
Most nights end with time in the Gym.
High School: Faith and Fellowship with Martin Pruitt. "Learn to live with purpose, pay attention and slow down."
Middle School (Grades 6-7)
Sign up for our High School Youth Group Remind Texts! Send a text to 81010 with the message @covpresby to sign up!
The Church serves as a safe landing place for middle-schoolers when so much is changing and happening around them. It cannot be overemphasized how important it is to have a faithful community, especially during middle school years.
BASE is our Youth program for 6th and 7th graders, which uses Sunday School to teach our youth about Christian principles, theology, and how to build one's own faith. It uses fellowship to teach our youth about forming a support system in the church.
Middle School Milestone Annual Milestone Programs
Youth engage in milestones as markers of their time in ministry at Covenant and to help them grow in discipleship and community. Each year, youth are invited to an exciting way to mark their time in Youth ministry at Covenant.
5th Grade Transition
The middle school director has three intentional times to meet with rising sixth graders. She visits them in their classroom, takes middle school students to the fifth grade classroom, and then invites rising sixth graders to visit the middle school Sunday school class. To make this event more successful, the parents should be invited to tour the youth ministry area and provided with the opportunity to interact with a middle school parent panel. The Fifth Grade Transition milestone should also be advertised and celebrated in church communications. The Middle School Council should be involved in the planning of this event.

Sixth Grade Sharing Our Stories
There will be a specific Sunday for parents to celebrate their sixth graders' stories. Parents will write a letter to their children, expressing their desire for their child's faith journey. Provide parent resources for Sixth graders should receive a journal as a tangible item to remember the event for years to come. takeaway/gift - Faith Questions. Parents will also have an opportunity for a panel conversation and meet and greet with current MSY parents and the MSY council. Target date: Fall.

Heifer International
Middle school students are able to attend Heifer International one time during middle school. The students will receive a Heifer Christmas ornament as a tangible item to remember this experience. Target date every third year in place of CROSS.

7th grade: "Middle of Middle"
"Middle of Middle" is a Moth-style story slam about what it has been like to be in middle school. What it means to be in the middle – sharing stories about "the middle" (middle school, middle child, middle of career, etc.) celebrating the in-between times. A group of 3-4 are curated to share stories and then do a panel discussion and celebrate the in-between. Panelists wear their favorite outfit from 7th grade, while a photo slide show of the storytellers is presented.
QUEST is our 8th grade Confirmation class, which may separate from BASE during Sunday School, but will often combine with 6th and 7th graders for evening fellowship. Our QUEST curriculum encourages 8th graders to dive into the church and its teachings more deeply while exploring the values which speak to their individual faith the most.
Eighth grade students are able to participate in QUEST, in order to achieve confirmation. The students attend a QUEST retreat, participate in QUEST classes during Sunday school, visit churches of other faiths, and write a statement of faith during the year. Each QUEST participant has an adult mentor, who checks in regularly with them. There is also a special breakfast on Confirmation Sunday.
Fellowship and Study beach and Montreat trips for rising 9th graders as opportunities.
An invitation to eighth graders for Quest Confirmation
Since the year builds from the very beginning to end, students benefit from connecting on Oct. 4 at 9:30 a.m. Sunday School and committing to the journey in full through Sunday, May 2.
Sign up for our High School Youth Group Remind Texts! Send a text to 81010 with the message @covpresby to sign up!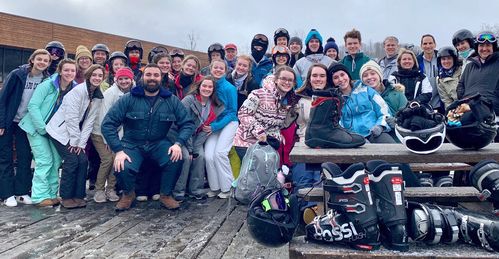 High School youth ministry focuses on four cornerstones: Fellowship, Worship, Study and Service.
During the school year, we have offer retreats for fellowship and study: to the mountains in the Fall, skiing in the winter and the beach in the spring. Throughout the year, we explore topics from all walks of life, worship, study, assist with service projects, create art projects, and have a great time together. All youth , grades 9-12, are welcomed and encouraged to come and join along in programming on Sunday mornings and evenings, as well as Wednesday evenings. Regardless of who you are, where you are from, prior affiliation with the church or participation anywhere else,
y
ou have a place in Covenant High School Youth!
During the school year you can find us around campus on Sunday's in The Landing for Sunday School at 9:30 a.m. and Youth Fellowship from 6-7 p.m. following dinner at 5:30. Wednesday evenings we gather for dinner at
Open Table @ Covenant
followed by games, service projects and studies focusing on Biblical topics, Theology & World Religions.
High School Youth Annual Milestone Programs
Youth engage in milestones as markers of their time in ministry at Covenant and to help them grow in discipleship and community. Each year, youth are invited to an exciting way to mark their time in Youth ministry at Covenant.
Ninth Grade Welcome Dinner
Intentionally inclusive time for upperclassmen to welcome ninth graders into High School Youth (HSY) group. A transition dinner from Middle School Youth to HSY, ninth graders will also work with the HSY director and artist to create portraits with their hopes for the coming life of HSY. These will hang in their HSY room and then be used in worship during their Senior Year. In senior and freshman pairs, upperclassmen make dinner for ninth graders, time capsule to be opened senior Sunday. All done during dinner.

Tenth Grade Faith and Sexuality Seminar
more focused on healthy relationships as follow up to 5th grade faith and sexuality. A Saturday morning time for tenth graders to have open and honest communication about healthy relationships and sexuality in the Christian faith.

Eleventh Grade: Listening to Your Life Faith and Career Fair (Fall)
College Admissions Workshop (Spring) – focusing on the application process.
Consider including senior youth and parents with insight on lessons learned. Tools for discernment, PCUSA scholarship opportunities, etc.

Senior Sermons
During Youth Sunday, seniors are invited to offer the sermon. This provides them with the opportunity to celebrate their time at Covenant and to bid farewell to the church as students graduate from high school.

Senior Sunday
Graduating seniors are recognized during worship services at Covenant.

Yucatan, Mexico Mission Trip
This mission trip allows high school graduates to invest in the faith community, while providing service to those in the Yucatan. To make this milestone more successful, there is an intentional connection for graduates to share their Yucatan story with their Covenant family.
High School Youth Key Dates
Youth Sunday: April 26
Senior Sunday: June 7
Back-to-School Dinner: August 30
Youth Group Kickoff on September 13
Interim Director of Middle School Ministries
Alyssa graduated from Queens University after completing her studies a semester early. She has a strong interest in youth ministry, having served as a CROSS Guide at Myers Park Presbyterian Church and a youth volunteer at The Grove.

Alyssa interned in the Mayor's Office and served at Queens as a Civic Engagement Fellow, helping with voter registration and engagement.
Director of High School Youth
Martin graduated from Presbyterian College in 2013 with majors in religion and Christian education and minors in youth work and leadership. He also has a Master of Divinity and a Master of Arts and Christian Education from Union Presbyterian Seminary.

Since 2013, Martin served as Director of Youth and Christian Education at Sharon Presbyterian, where he reinvigorated and increased participation in youth programs. Martin helped lead Bulldog Prayers – the multi-faith devotional group at A.G. Middle School. In his spare time, Martin enjoys playing rugby with the Charlotte Royals and doing home renovations with his wife, Anna.
Interested in connecting with us?
We'd love to hear from you. Drop us a line and we'll get back with you.
Retreat and Mission Trip Schedule
High School Summer Mission Trip – John's Island, South Carolina – CANCELLED
Join us June 14-20 for our Mission trip to John's Island, South Carolina. John's Island is right outside of Charleston where we will work on building houses with Sea Island Habitat for Humanity! Cost: $350.00 per youth.
Graduating Seniors Mission Trip – Yucatan, Mexico – CANCELLED
The trip to the Yucatan is for high school youth who have finished their senior year and are looking for a mission experience that will help them prepare for the next step after high school. The trip to the Yucatan is a week full of concrete work and relationship building with both your own group and our brothers and sisters who you will meet in Mexico. The group will fly out of Charlotte on June 21st and return on the 27th. This is a great trip for you to broaden your horizons and experience the work of God in a different country! Cost: $850 per youth.
Middle School CROSS Mission Work – Charlotte – CANCELLED
The Covenant Middle School Youth will attend CROSS Mission at Myers Park Presbyterian Church this summer where we will with the community through urban ministry. CROSS will challenge us to feed the hungry, house the homeless, and love those in need. Dates for the trip are June 21st to the 26th. Cost: $350.00 per youth.
High School Youth Conference in Montreat – CANCELLED
Come spend a week in the mountains of North Carolina with a 1000 other high school youth while you worship, relax and play together. The Montreat Youth Conference is a week long event from July 12th to July 18th that includes keynote speakers, small groups, recreation and worship every day. While we are there we stay in rental houses and eat all meals together with our Covenant group but you will have plenty of opportunities to interact with other youth from around the country! Cost is $450.00 per youth.