strengthen mind body and spirit
Welcome to Covenant's Recreation Ministries. We nurture good spiritual and physical health through a ministry of wellness, fitness, and fun. In our Recreation Center, we offer programs to strengthen minds, bodies, and spirits, while using our facilities and events to reach out to our neighbors in Charlotte.

The reopening task force is now allowing modified use of the rec Wing. The Rec Wing will be open on a limited schedule with a facility capacity of 25 people. You can make a reservation for an individual workout or workout with a trainer. We are currently not open to any group fitness or basketball activities. New protocols have been established to help ensure that we are providing the safest environment possible for our members.
Visit our Facebook Page for More Information
Monday-Thursday
8 a.m. - 12 noon and 2 p.m. - 7 p.m.
Friday
8 a.m. 12 noon
Full line of cardio (treadmills, ellipticals, recumbent bike, upright bike, spin bike, and rowing machine)
Full new line of resistance equipment (chest press/shoulder press, pec fly/rear delt, lat pulldown/low row, leg press, leg extension/leg curl, and multi-function dual cable machine)
Free weights (dumbbells up to 50lbs)
Fitness balls, BOSU's, battle rope, bars, bands, jump ropes, etc.
Free Wi-Fi and Parking
Locker rooms and showers available
Look and feel your best in the new year. The Rec Wing invites you to a 12-week coaching program led by our own Kevin Harper. You'll gain personal nutrition and exercise strategies to reach your wellness goals. Here's how it works:
You'll receive a heart rate monitor to track real-time data
Access to a mobile app for video-on-demand classes
Livestream workouts to improve your heart rate
Customized nutrition/meal plan
Begins Wednesday, Jan. 27
Accountability coaching with Kevin Harper, Rec Wing Director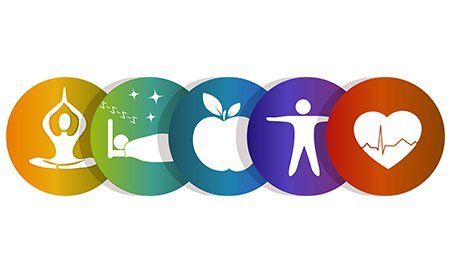 join hiking group for
outdoor adventures
What to bring:
Comfortable walking shoes
Water
Hats, sunglasses and sunscreen
Snacks or a picnic lunch
Saturday, September 11, 2021 at 9:00 a.m. -- Seven Oaks Preserve
What to Expect:

We'll hike three miles of this flat, natural surface, out-and-back trail hugging the banks of Lake Wylie and winding through hardwood forests and wildflower fields. This hike offers plenty of shade and opportunities to spot wildlife.
Where to meet:

The Seven Oaks Preserve trailhead parking lot is located at 6900 S New Hope Rd, Belmont, NC 28012.
Saturday, October 16, 2021 at 9:00 a.m. -- Pharr Family Farm Trail
What to expect:

This 1.7-mile (one way) Carolina Thread Trail traverses 66 lush, green acres protected by the Catawba Lands Conservancy. The single-track, packed-dirt, natural-surface trail is smooth with only gentle undulations and a few roots to navigate. It meanders through a rich forest ecosystem with an abundance of trees and wildlife.
Where to meet:

Pharr Family Preserve Trail is located near 9111 Mt. Pleasant Rd. South, Concord, NC, 28205. Follow a long gravel drive to the trailhead parking lot. The trail begins next to the map kiosk.
Saturday, November 13, 2021 at 9:00 a.m. -- Forney Creek Conservation AreaWhat to expect:

This three-mile hike traverses a couple of boardwalks and winds its way to two ponds, each offering an overlook. The Forney Creek Trail through the Catawba Springs Preserve is also a segment of the Carolina Thread Trail.
Where to meet:

Sally's YMCA is located at 1601 Forney Creek Parkway, Denver, NC 28037. The trailhead access point is less than 0.2 mile past Sally's Y on the right. It is marked by a map kiosk. Parking is available at Sally's Y or on the street by the trailhead.
Saturday, December 11, 2021 at 9:00 a.m. -- Buffalo Creek Nature Preserve
What to expect:
This 3.5-mile hike will follow an easy, natural surface trail covering an interesting mix of terrains, including a Piedmont Oak savannah, farmland and forest. We'll enjoy a trip across a suspension bridge at the turnaround point.
Where to meet:

The Buffalo Creek Nature Preserve parking lot and trailhead are located at 7911 Malibu Rd, Mt Pleasant, N.C. 28124.
Connect with the Recreation Ministry
We would love to hear from you. Please drop us a line and we'll get back with you shortly.