welcome to a new season of connect groups!
This fall, our Connect study focuses on the Book of Hebrews, a beautifully written letter that examines the power and movement of Jesus in the lives of the early disciples. An introduction video by Ian Clark is designed to provide context for a journey that will be equal parts comforting and challenging.
This page will be updated each week with videos, written reflections and questions. Below is a sample outline to guide your small group time. I look forward to hearing of the conversations, friendship and joy you share in your small groups. I keep you in my prayers as we embark on this journey.
Peace,
Grace Lindvall
Sample Outline of Connect Group Gathering Time
Ask what joys are happening in your life, what challenges are you experiencing? 
Read Scripture passage together (5 minutes)
Ask one group participant to read the scripture passage for the day
What word or phrases stood out in this passage? 
Watch video (15 minutes)
Discuss Questions (25 minutes)
Question are found in your Connect book
Prayer Requests (5 minutes)
Ask how can we lift one another and our neighbors up in prayer?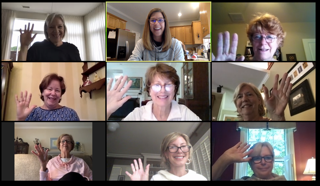 Week seven with julia watkins
In today's click-bait culture, it may be difficult to wrap our minds around anything being the same yesterday, today, and tomorrow. The information we receive changes by the minute—if not by the second—and varies widely between sources. While our present moment is unique, it bears some things in common with the context surrounding the book of Hebrews. At that time, people were working out what it meant to follow Jesus. They were waiting for God's promised kingdom to come, and they were almost certainly experiencing persecution along the way. Like us, the intended audience of Hebrews lived in dynamic times, never certain what to expect from day to day.
Within that fluctuating context, the book's author offers a lens through which readers might interpret life's ups and downs. The Hebrews gain new perspective on their unstable world when they view it in light of Christ's constancy, which frames this passage. The author's closing admonitions about hospitality, suffering, sex, and money are far from easy, but they come into focus as calls to faithfulness. Because Jesus is faithful, the Hebrews, and us, have both the capacity and the compulsion to respond faithfully. Fortunately, we are not alone in this difficult and life-giving calling but accompanied by leaders who have shaped our faith across the years and continue to guide us now.
When you "remember your leaders" (v. 7), who among them has demonstrated what it means to live faithfully? In what ways has that person shaped your life of faith?
How have you experienced (or felt distant from) God's faithfulness across your life? How does God's faithfulness equip you to lead a faithful life?
The author of Hebrews writes that through their hospitality, "some have entertained angels without knowing it" (v. 2). What gifts have you received by extending hospitality? What challenges accompany hospitality?
To what extent do you believe God calls us to share in one another's suffering (v. 3), as in one another's joy? How might you practice that sort of compassion in your own life?
What do you believe it means to live "free from the love of money" (v. 5)? How might any of us approach such freedom and learn to be "content?"
Week six with serenitye taylor
Faith. A word we have grown accustomed to using. In Hebrews 11, we dive deeper into what faith looks like by what some would call the faithful Hall of Fame. Here we have a group of people who are called out for having pleased God.
Hebrews 11 offers us encouragement to stay on the right path. This is a powerful passage. And the way it is presented feels like a coach offering his team inspiration at halftime in the locker room. I don't know about you, but I get energized just reading it. And while I am energized, I am also challenged.
When was the last time you had to exercise your faith? What did it look like? How did you feel?
After reading the scripture, what does faith look like to you? Create a list of what faith is and what it is not. What are some characteristics of faith?
Which story referenced in Scripture resonates with you the most?
Is faith in God, and faith in God's promises, something you struggle to digest? Or does it come naturally to you?
In our lives today, does our faith mirror these examples?
Week five with grace lindvall
In Hebrews 10: 11-25, we learn about the grace of God. As Beuchner puts it, "Here is the world, beautiful and terrible things will happen. Don't be afraid. I am with you."


The idea of "perfection" is both enticing and frightening. On one hand, we are all naturally drawn to things that are "more perfect" than what we currently possess. On the other hand, the very idea of perfection causes us to recall our own imperfections, limitations and faults.
In Hebrews 8, we are confronted with an abundance of perfection: perfect ministry, perfect places, perfect promises, perfect covenants. We hear the words "better," "excellent," "new," and "faultless" throughout. This is not designed to frighten or unsettle us. Instead, it is meant to motivate and guide us. By presenting us with the ideal forms of things, the author of Hebrews seeks to give us models that we can pattern our own lives and faith after.
As you discuss this within your group, consider the following questions:
How do I respond to the concept of "perfection"? Does it motivate me? Scare me? Intimidate me? Excite me? Encourage me?
Am I seeking to model my faith life after someone or something? What is my guiding vision for my faith?
God's perfect covenant is defined by inclusivity, kindness, and forgiveness. If this is the case, how can I better incorporate these ideals into my own life?
Week Three with katherine kerr
Hebrews 6:1-12
My favorite Study Bible (The Discipleship Study Bible) calls Hebrews "one of the more difficult books in the New Testament," and so kudos to you for taking on this study!  You've already seen some of the truth in that statement, and in this section we dive right in to one of the really challenging parts of this letter.  There's no doubt that the writer is frustrated with this group of believers who were once quite enthusiastic about their faith, but who have grown lackluster and are at risk of drifting away from the central tenets of their faith.  
In Chapter 6, he lets them have it, calling them back from their drifting to an intentional, thoughtful faith practice.  Though this letter was written to a particular group of people in a particular context, this message is as appropriate to us today as it was then.  For the Hebrews, and for us, this letter serves both as a reminder of the source of our faith as well as an encouragement to keep practicing that faith.
What is one of your earliest memories of faith?  What did it teach you? 
When you've been in a valley in life- a time of struggle, depression, disconnection or apathy, what or who helped you to reconnect with your faith?
In this passage, two kinds of ground are described- that which soaks up the rain and produces a useful crop, and that which produces "thorns and thistles."  To what is this referring?  How can we make sure that we are producing "a crop useful to those for whom it is cultivated"?
What does it look like to have a "sluggish" faith?  What are some antidotes to that?  What do you do, or what can you do, to try to avoid having your own faith become sluggish?
Week Two with Bob Henderson
For many years, the Book of Hebrews was my favorite book of the Bible. As I've gotten older, I've found it increasingly difficult to understand because it's largely overhearing a sermon to a different congregation in a highly different culture. And yet, we can hear some timeless truths that are as applicable today as they were back then.
Connect Group Questions
The author of Hebrews says, "Let us hold fast to this confession" What confession, belief system, or truth do you hold fast to. How does it shape your life?
What confession/belief system would you like to release/adopt?
When have you found God's throne to be a "throne of grace?
Week One with Grace Lindvall
The verses we read today from Hebrews 2 are rich in their beauty and rooted deeply in meaning to the people who hear them. The richness of this text would be hard to capture simply in one 15 minute video or a few words of introduction. However, if you're like me the words we just read can occasionally be hard to follow, I often prefer the stories that come in the gospel or books like Acts. The poetic praise I find sometimes gets me a bit lost, what does it mean, how do I interpret it, do I need to have a broader theological understanding? The answer plainly, is no. These words are meant to encourage you in your faith. Take them phrase by phrase, verse by verse, what does it mean to you?
This passage is particularly compelling in its encouragement for faith – pushing the Christians to keep pressing on in their faith as well as giving us good reason to trust. The author does not simply tell us to pay attention to our faith but also gives good reason why we should, why Jesus' life and ministry and power over the world is compelling and of great import. Read these verses slowly and let them comfort you, listen for the good news that is within them – they are filled with good news not judgement, encouragement not reprimand.
Connect Group Questions
How do you avoid "drifting" away from your relationship with Christ, the church, or your fellow Christians? In what ways is this challenging?
How does or how might your life be changed if you no longer fear death? What does this open your life up to?
Where and in what ways do you look for God to show up in your life or in the world? How does God show up in ways you sometimes miss?
The writer of Hebrews writes that Jesus is made "perfect in his sufferings" how does that comfort you? Challenge you?