Connecting our gifts and passions with service to our neighbors
Our local outreach ministries aim to connect people's gifts and passions with service to our neighbors, building caring and nurturing relationships with people struggling with poverty, homelessness or hunger.
How would you like to share your gifts? Here are several of the ministries and partners that we support.
Contact Director of Mission & Outreach, Lucy Crain, to learn more.
serve at highland Renaissance academy
Read, Roar, Soar!
Read with a 3rd Grader
Second Friday Each Month
We plan to begin a new season of Read, Roar, Soar in October. Volunteers are needed to join in reading and sharing books once a month with 3rd graders. We will be visiting classrooms on the 2nd Friday of each month from 9:40 – 10:20. No prep work is required. You'll be in a classroom with other volunteers to help children select books. We share a little about the books and then help the children choose one to take home with them and spend some time reading together.
Please contact Alan Morrow with questions
.
Kindergarten Tutoring
Tuesday or Thursday Mornings for 1 Hour
Our kindergarten program begins the first week of February 2022 and lasts until Spring Break (9-10 weeks), Tuesday or Thursday mornings for 1 hour.
Volunteer for one-on-one tutoring with 3 kindergarten students (20 minutes each, same students each week) working on sight with vocabulary and reading. Tutors work on beginning sight words using word cards, writing and tracing words, reading a simple, patterned book to student. Tutor & student read together, then student reads alone. Contact
Betty Graybeal
with interest.
Teacher Appreciation Snacks and Brunches
Monthly
During the school year, Covenant embraces those who nurture students at Highland day-after-day.

We provide our traditional monthly brunches and periodic snack carts, delivering goodies and refreshing drinks to teachers as a reminder that what they do matters – a lot – throughout the day.

Next event is February 13. Sign up below.
Responding to Community Hunger needs
Dinner for Neighbors at Roof Above
Fifth Tuesdays Each Month
(about 4 times a year)
Texas Hash casseroles, desserts and fresh fruit are needed for each meal, and people (older than 16) are invited to come serve the meal at the shelter.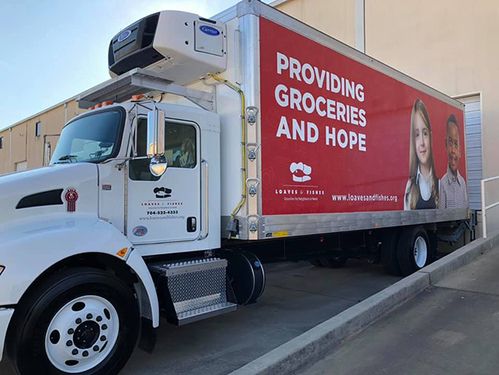 Sort food, box groceries at Loaves & Fishes
Second and Fourth Tuesdays Every Month
Food insecurity will affect nearly 1 in 5 North Carolina residents in 2021. Loaves & Fishes has launched temporary mobile pantries across the city. Covenant folks can sort food twice each month from 9 to 11:00 a.m. or
sign up to be a delivery driver here
.
Operation Sandwich
First Mondays Every Month
You can make 25 sandwiches and bring them to church,
where Lucy will be outside to collect
and deliver directly to Roof Above's day services center.
Meet Our Community Service Leaders
Lucy Crain, Director of Mission and Outreach
Lucy joined the Covenant staff in 2013 and enjoys connecting folks in the Covenant community with opportunities for outreach ministry. She works alongside our local and global partners to educate and engage our congregation in the good work being done here in Charlotte and around the world.
Roof Above (formerly Men's Shelter of Charlotte)
Nikki Zimmermann, Pastoral Resident for Mission and Outreach
Nikki was born and raised in Atlanta, Georgia before heading to UNC-Chapel Hill for undergraduate studies. After college, she moved to Nashville, Tennessee as part of the 2016 Teach for America Corps where she taught 6th grade ELA. From Nashville, Nikki moved to Princeton, New Jersey to begin her studies at Princeton Theological Seminary. During her third year in the Master of Divinity program, Nikki served as the Pastor of Sunday Worship at Kingston United Methodist in Kingston, NJ.
Seasonal Opportunities to Serve
When you open books, you open doors. Freedom Schools summer programs give children three resources needed to develop their potential and inspire a love of reading and learning – literacy skills, character strengths and a community that believes in them. Covenant supports a Freedom School site at Highland Renaissance Academy serving 60 children in grades K-8.
Roof Above (formerly Men's Shelter of Charlotte)
On fifth Tuesdays (about 4 times a year), volunteers from Covenant serve donated Texas Hash casseroles to neighbors who rely on the shelter. Casseroles, desserts and fresh fruit are needed for each meal, and people (older than 16) are invited to serve the meal at the shelter.
Join the team to provide a Thanksgiving meal at Moore Place, a community for folks overcoming homelessness. You can help in advance by preparing side dishes and delivering supplies on the day of the event, or/and you can help serve the meal. This partnership is special to both Covenant and Moore Place — we are the only group each year that serves a holiday dinnertime meal to the residents!
Highland Renaissance Academy – Our CMS Partner School
There are many ways to get involved with Highland Renaissance Academy, located just north of uptown at 125 W. Craighead Road. Covenant's longstanding partnership with Highland continues to lift up teachers and students by providing reading buddies, teacher appreciation brunches and more.
Covenant's commitment to the Community
Continuing Our Partnerships in Affordable Housing
As a result of the generosity of our congregation, primarily through our "For a Whole Community" capital campaign, Covenant can make significant investments in multiple affordable housing projects. A task force has been working to develop plans for the funds, and with Session approval, we will announce the projects during worship in the next few weeks. Join us in-person or online to hear about additional investments. Your generosity continues to build a more whole world across our city, and we are deeply
grateful.
At August 29 Worship, Bob was joined by Rev. Dr. Peter Wherry of Mayfield Memorial Baptist Church to announce an extension of the partnership between our two congregations. Mayfield has embarked on a journey to invest in affordable housing by building new units with the help of DreamKey Partners. Will Summerville, a co-chair of the "For a Whole Community" campaign, announced that Covenant is making a $300,000 investment in this new project in support of Rev. Dr. Wherry, his congregation, and their vision to serve the most vulnerable among us.
On Sunday, September 12, Bob was delighted to welcome Liz Clasen-Kelly from Roof Above to our 9:30 a.m. and 11:00 a.m. services as part of our Welcome Home series of announcements of Covenant's investments in our community. Liz and Roof Above are dear friends and partners of our Covenant community and it is the result of the generosity of our family at Covenant that we can announce the expansion of
our ongoing partnership with Roof Above
. Bob was joined by Katie Cornwell, head of Covenant's finance committee, who announced that Covenant is investing $552,550 in Roof Above to support Liz and the team as they continue the fantastic work they provide in our community.
On Sunday, September 19th, Katherine Kerr, our Senior Associate Minister welcomed Spencer Guthery, Director of Philanthropy from
the Relatives
as we continued our Welcome Home series of announcements of Covenant's investments in our community. The Relatives' mission is to keep kids safe, families together, and prepare youth and young adults to be healthy, productive, engaged members of the community. With the generosity of our family at Covenant, Allen Brown, chair of Covenant's Mission and Outreach committee announced the expansion of our partnership with The Relatives. Covenant's $75,000 investment will help the Relatives transform a house into 4 bedroom suites to support vulnerable young adults who are unable to get into traditional housing, build credit and independence.
On Sunday September 26, Bob announced our final investment in affordable housing during our Welcome Home series.

This week, Bob welcomed Covenant's dear friend, member, and elder, Laura Belcher, CEO of Habitat for Humanity Charlotte. Habitat for Humanity believes that everyone deserves a decent, affordable place to live. They help remove the barriers to homeownership in three ways: building new housing units, repairing homes to a decent standard of living, and financial literacy.

Hugh and Jane McColl, honorary chairs of our capital campaign, presented Laura with $400,000. This significant investment will continue our partnership with Habitat and allow them to purchase 9 acres of land from Greater Bethel ME Church. This land will create 34 new affordable homes in our community.

Each of the significant investments in affordable housing we have announced over the past weeks has been made possible through your extraordinary generosity to the "For A Whole Community" campaign. Thank you.
Covenant's commitment to Roof Above
Covenant Presbyterian Church is honored to support the creation of affordable housing in Charlotte with a contribution of $1 million to Roof Above.

Roof Above, the merged Urban Ministry Center and Men's Shelter of Charlotte, is converting a hotel on Clanton Road into an apartment complex with 88 units and services for some of the city's most vulnerable neighbors.

Covenant's donation, made possible by an incentivizing gift, an estate gift, and the strong support of Covenant's entire congregation, nearly completes fundraising for the $12.5 million project, enabling Roof Above to move forward with plans to break ground in early May, with housing ready to open by December 2021. This donation does not include an additional $500,000 raised for affordable during our Capital Campaign For a Whole Community, which will be allocated to a separate effort in the near future.

This permanent supportive housing will be similar to Moore Place, a 120-unit community established in 2012, which moves people directly from chronic homelessness to housing and surrounds them with supportive services, like nursing care, case management, social activities, and psychiatric care.
The Clanton Road complex will provide shelter and services for 15% of Mecklenburg County's chronically homeless population, all of whom are at the top of a community-based vulnerability index.

Covenant's Session unanimously voted in favor of the grant as proposed by a Planning & Evaluation Board (P&E) Task Force formed to recommend use of funds to address the critical need for affordable housing in our community.

The Clanton Road apartments are located less than five miles from uptown and in close proximity to public transportation, a grocery store, a branch of the Charlotte Y, and a health clinic.
During an Easter morning announcement, Phil Koonce, Clerk of Session, presented a check on Covenant's behalf to Liz Clasen-Kelly, CEO of Roof Above, at the site of the apartment complex on Clanton Road. (
View the announcement
.)
"It has been a privilege for Covenant to serve with Roof Above at Moore Place, the Men's Shelter and other endeavors throughout the years," he said, "and it is an honor to support the creation of permanent supportive housing here. We do so with deepest gratitude for Roof Above's work and pledge to work together to bring hope and new life to these residents."
Liz Clasen-Kelly received the gift with gratitude, proclaiming "this is an amazing celebration of life and what we will do is invest in creating stability, dignity and safety for people here, and we could not be prouder to have Covenant as a partner here."
Rendering of planned renovations/additions.
This announcement comes with an invitation to everyone at Covenant and the greater community to consider how we might build upon this contribution, making a direct impact and further embracing this opportunity to serve God's most vulnerable people in our city.

"I thank you all at Covenant for your strong contributions and generous support," says Senior Minister Bob Henderson. "We're not finished with all the funding that is needed for Roof Above for this affordable housing solution and I encourage everyone to consider how else we might support the ministry there."
Want to Learn more about serving in the Community?
We would love to hear from you. Drop us a line and we'll get back to you shortly.