giving a warm welcome to neighbors at mezzanine
Help provide residents with warm wishes from Covenant as we celebrate the last families moving into their new homes. The Mezzanine Ministry Team is collecting Nestle toll house cookies (follow the recipe on the bag of semi sweet chocolate chips) and hot chocolate to be added to gift bags to hang on each apartment's doorknob.

Donations will be collected on Thursday, January 28th** at Covenant in the morning. Goodie bags will then be assembled in the afternoon and delivered to The Mezzanine homes.
Responding to hunger needs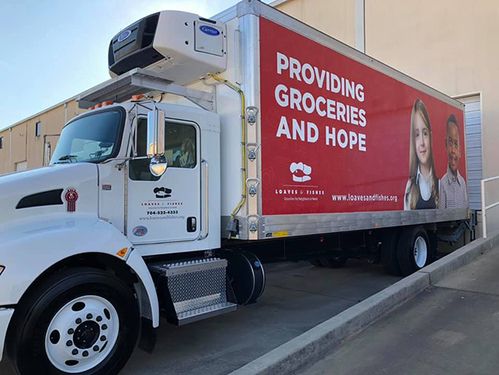 Box groceries for neighbors in need
Second Tuesdays every month
Food insecurity will affect nearly 1 in 5 North Carolina residents in 2020. Loaves & Fishes has launched temporary mobile pantries across the city. Covenant folks can sort food once a month on Tuesdays from 9 to 11:30 a.m.
Sort at Second Harvest
Third Wednesdays every month
A socially distanced volunteer opportunity brings together volunteers age 17 and over to inspect, sort and pack donated products. Second Harvest responds to hunger in our community.
Mobile Food Pantry
Tuesday, Jan. 19 at 4 p.m.
Join a team to help distribute groceries from Second Harvest to families in the Highland Renaissance Academy area north of uptown. Our group will meet at Highland, located at 125 West Craighead Road.
people in mission,
a summer experience
for college students
Each summer, Covenant offers its college students a transformative 10-week experience working with people served by our local nonprofits. It is coupled with a weekly reflection where students and church staff reflect on the opportunity to serve. Pay is very competitive. This year's dates are June 1 to Aug. 6. The deadline to apply is Feb. 15.
A way to lift up educator heroes at our partner school
We once again have a chance to embrace those who embrace, nurture and educate students tirelessly and steadfastly day after day. You can take part in Highland Heroes Appreciation Brunches

Covenant members are invited to contribute food, drinks, flowers or a note of encouragement so that staff may enjoy a light breakfast, healthy snack, sweet treat or simple reminder that what they do matters – a lot – throughout the day. We ask for items to be dropped off during business hours in the Welcome Center bin.
Connecting our gifts and passions with service to our neighbors
Our local outreach ministries aim to connect people's gifts and passions with service to our neighbors, building caring and nurturing relationships with people struggling with poverty, homelessness or hunger.
How would you like to share your gifts? Here are several of the ministries and partners that we support.
Contact Director of Mission & Outreach, Lucy Crain, to learn more.
Community service Opportunities
When you open books, you open doors. Freedom Schools summer programs give children three resources needed to develop their potential and inspire a love of reading and learning – literacy skills, character strengths and a community that believes in them. Covenant supports a Freedom School site at Highland Renaissance Academy serving 60 children in grades K-8.
Roof Above (formerly Men's Shelter of Charlotte)
On fifth Tuesdays (about 4 times a year), volunteers from Covenant serve donated Texas Hash casseroles to neighbors who rely on the shelter. Casseroles, desserts and fresh fruit are needed for each meal, and people (older than 16) are invited to serve the meal at the shelter.
Join the team to provide a Thanksgiving meal at Moore Place, a community for folks overcoming homelessness. You can help in advance by preparing side dishes and delivering supplies on the day of the event, or/and you can help serve the meal. This partnership is special to both Covenant and Moore Place — we are the only group each year that serves a holiday dinnertime meal to the residents!
Highland Renaissance Academy – Our CMS Partner School
There are many ways to get involved with Highland Renaissance Academy, located just north of uptown at 125 W. Craighead Road. Covenant's longstanding partnership with Highland continues to lift up teachers and students by providing reading buddies, teacher appreciation brunches and more.
Want to Learn more about serving in the Community?
We would love to hear from you. Drop us a line and we'll get back to you shortly.